I present to you the "number cakes" or "cakes in the form of numbers".

Originally designed to celebrate birthdays, they are also an option for weddings with features like "A & G" (Initials of spouses ' first names) or "LOVE".
Fresh, light and fruity, they are excellent during the summer period when the seasonal and local red Fruits express all their aromas.
---

Here is a selection of some of our recent accomplishments.
---

We offer two versions of numbers cakes
Compostition
Hazelnut shortbread
White Chocolate Ganache
Hazelnut Financial
Light Whipped cream
Caramelized hazelnuts
Raspberry and Blackcurrant macaroons
Meringues
Edible flowers (according to season)
Red Fruits (strawberries, raspberries, blueberries, gooseberry,,… According to season)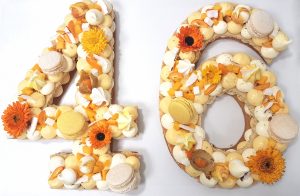 Composition:
Hazelnut shortbread
Creamy lemon
Financial Coconut/Lime
Chantilly Light Lime Green
Caramelized hazelnuts
Coconut and Lemon macaroons
Meringues
Coconut slices and cubes
Edible flowers (according to season)
Exotic Fruits (Mango, physalis, kumquats passion fruit,… According to season)
---

| | |
| --- | --- |
| MEDIUM FORMAT | Wide FORMAT |
| 1 digit or 1 letter = 9 Slices | 1 digit or 1 letter = 15 Slices |
| 2 digits or 2 letters = 18 Slices | 2 digits or 2 letters = 30 Slices |
---

Please note that for this type of cakes, the minimum order is 9 Slices.
The price of our Number cakes is offered to the slice. Whichever version you choose, the price is the same.
Only on reservation, to come pick up in store otherwise plan delivery in supplement.
---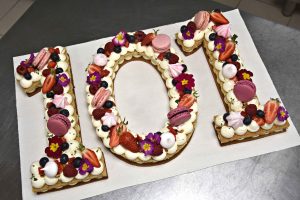 This type of dessert is eaten very fresh, straight out of the refrigerator.
Please note that the medium Format of these cakes fits into standard refrigerators (30 cm x 40 cm).
On the other hand, the wide format is very large. Each letter or figure is 60 cm x 40 cm. Make sure you have a professional cold cabinet of this size, a cold room, or a refrigerated trailer.
You have 3 days to enjoy your dessert as long as you keep it between 0 °c and 4 °c.
---